Welcome to our Arizona themed dome! This gem with a boho feel sits at the very top of our ridge and is completely surrounded by forest and carpets of thick green moss. This cactus inspired dome will bring you relaxation and a deep sense of calm as you stare into the treetops from your indoor hanging chair or your comfy two person egg chair.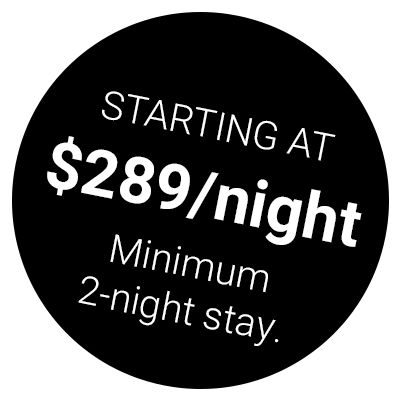 This dome has two sleeping areas, a king size bed on the main level and a queen sized bed on the loft. Both have beautiful panorama and stargazer window views. We are proud to offer Canada's 2021 mattress of the year by Endy, only the best for our guests!
Your private bathroom with a frosted glass pocket door holds a modern corner shower, a flushing toilet, a vanity and even a spa towel warmer so that your towels will be cozy warm when you step out of the shower or head out to the hot tub.
This cactus kitchen is perfect with everything you need for your stay including, coffee, tea, olive oil, salt and pepper. Enjoy your private oasis that even includes a dishwasher!
Your indoor living room in this Arizona dome includes a table with four chairs, a comfortable seating area with side table, a cozy propane fireplace, a hanging chair, an assortment of board games such as crib, chess and playing cards, an aromatherapy diffuser and complete privacy!
Your dome sits at the top of the property on an extra large wood deck, high off the ground to capture views of the mossy carpeted forest all around you. At the entry to your deck is an outdoor table for eating in the summer and a maple tree built right into the deck which is magical in the Fall. On your deck you will be delighted to find a year round hot tub, four Adirondack chairs, a stainless steel BBQ and a huge propane fire table waiting for you to enjoy!
We have several rentals that can be added on to your stay such as fat bikes, snowshoes or a projector and movie screen. We also have seasonal experiences such as maple syrup making that display as an option seasonally. Any of our add ons or rentals can be added to your cart directly at the checkout. If you have any special requests for a milestone celebration or important engagement we will be happy to personalize that with you!
Ready to explore the ridge?
Our Resort Map offers a glimpse into the hidden gems throughout the resort. It's the perfect place to escape and unwind, with all the amenities and privacy you desire!
Check in days are Fridays, Sundays, and Tuesdays, with a minimum 2-night stay.
*** If using a Balsam Ridge Forest Domes gift card, please call 506-340-3663 to book your reservation.
Select
single Thursday nights are available if showing as green in the calendar. Please email
balsamridgeforestdomes@gmail.com
 or call 
506-340-3663
to confirm as they cannot be booked online. Single nights are $339 plus tax.