We have so much for you to do while staying with us.
For any activity with an added cost, taxes are extra. Add-ons can be selected at time of booking, or leading up to your stay!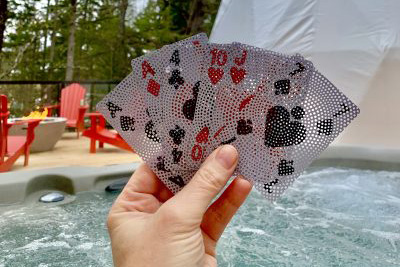 Hot Tub
Every dome has its own private, year round hot tub surrounded by a privacy fence on your deck. Sink in, relax and soak up the trees and stars all around you. Each dome also has a set of waterproof playing cards which brings a new meaning to the game "Go Fish"!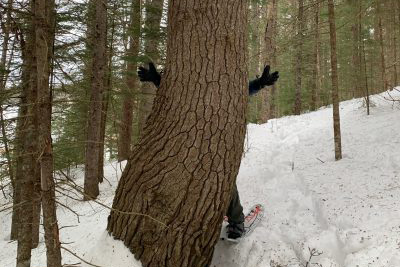 Hiking Trails
We have a marked 1 km loop complete with reflective trail markers to keep you on track. This loop will take you through different elevations, around some supersized old trees and across peaceful moss. Check out the trail on our resort map! We have several other trails in development, stay tuned for those coming soon.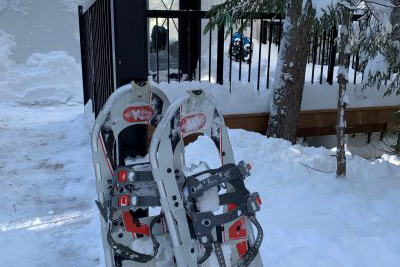 Snowshoeing
Our snowshoe trail winds you through the forest, up some hills and down some valleys. This trail is clearly marked with reflective markers and each dome has a headlamp for you to always find your way! Bring your own snowshoes or reserve a pair with us at your checkout.
(Rentals are $10/set for a half-day)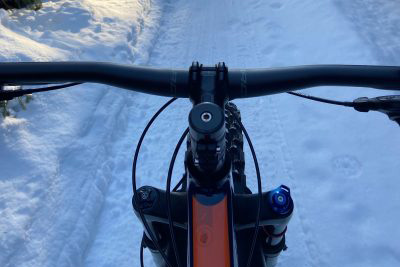 Fat Bikes
Our trail is perfect for fat biking in the summer or winter! You will be challenged with our hilly, marked loop but the peace in the trees is beautiful! Bring your own bike or rent one from us at the checkout, we have both kid and adult fat bikes for rent. Check out the trail on our resort map!
(Rentals are $25/bike for a half-day)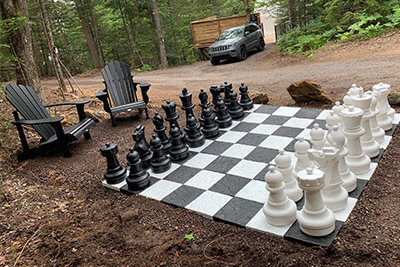 Checkmate, forest style!
What could be more fun than playing chess in the forest? With our giant outdoor chess set, you can enjoy a game in nature's setting. If you're looking for a fun and challenging activity, this is the perfect choice.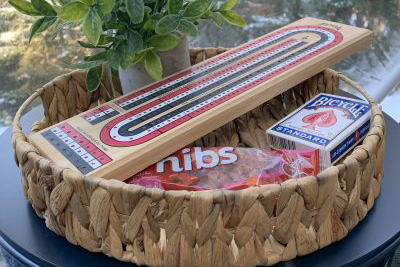 Board Games
Your dome has a crib board, a deck of playing cards, a chess board, checkers and a backgammon game. We also have other classic options such as Scrabble, Monopoly and Life at the office that you are welcome to.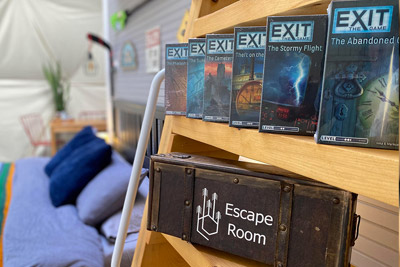 Escape Room Experience
Treat yourself to an international award winning story based puzzle adventure that will be set up in your dome and waiting for you. This Canadian made adventure is perfect for a date night, family night or to tackle solo. You can add this option to your cart at checkout. Have fun!
($30)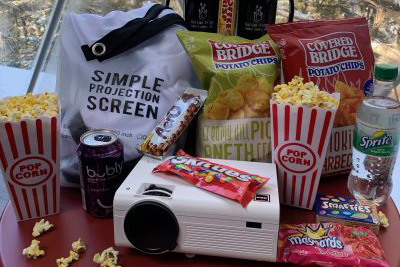 Projector and Screen
Want to chill and catch up on your favourite series? We can help with that with projectors and screens available to add on to your stay at the checkout! Just bring your device with the downloaded shows, and we'll have the screen and projector waiting for you in your dome. If you want to turn it into a full theatre experience add the "Movie Night" option and you will also get a sweet basket full of treats!
($30 for Projector and Screen Rental, or $50 for Movie Night Package)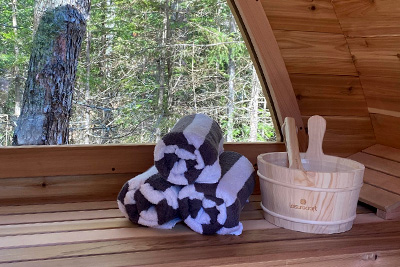 Sauna (Mossy Log/The Anchor Domes Only)
If you have yet to experience a sauna in the woods, it's time to add it to your bucket list! Our Mossy Log and The Anchor guests have their very own red cedar sauna on their decks. Imagine sitting in a toasty warm sauna, with a huge window to observe the peaceful tranquility of the forest!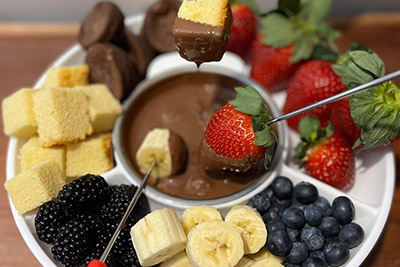 Fondue Machine Rental
Satisfy your inner chocoholic with our fondue machine rental, plus a large mason jar of milk chocolate – just bring your own items for dipping! If fruits and treats are needed, let us know and we'll gather goodies to make your stay even more special for an additional $20 (add a note during initial booking, or notify us at least 48 hours prior to your visit).
($20/day)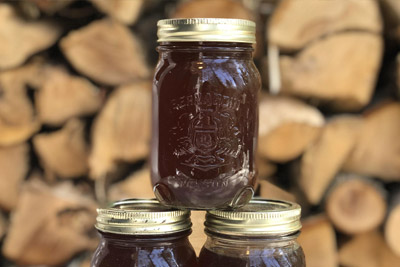 Maple Syrup Experience
Every Balsam Ridge Forest Dome is surrounded with beautiful maple trees, some even have their decks built around maples and they are incorporated into the deck to save the tree! We have a seasonal offering in the spring to guide you through gathering the maple water, boiling it off and the process that takes to get it to your table.
($20)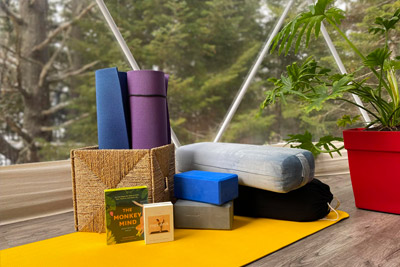 Yoga
Enjoy a peaceful, self led yoga practice at your dome getaway with this add-on available at checkout. Everything you need in one basket waiting for you in your dome, includes a mat, a block and a deck of yoga pose cards with easy to follow photos and descriptions. More than one yogi in your dome? Let us know and we will happily add an extra mat to your basket. Little yogi onboard? We have a fantastic kids version of little yogi cards!
($15)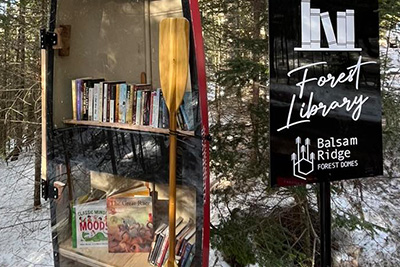 Forest Library
We have created a perfect wooded trail to our very own Balsam Ridge Forest library. Want a book, take a book, have a book, leave a book. This is a self serve library that is always waiting for you, day or night … happy reading!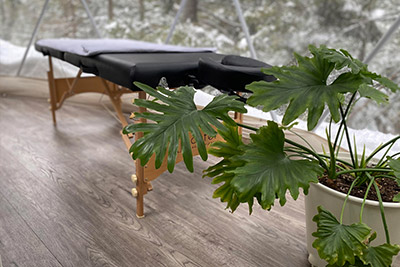 Massage Table Rental
When you're looking for the perfect way to relax and unwind, there's nothing better than a massage table. Our Master Massage tables are designed to provide the utmost comfort and relaxation, so you can feel your best. Just bring your own masseuse!
($50/day)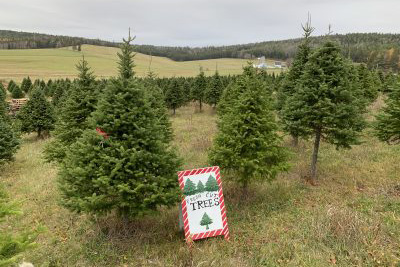 Christmas Tree U-Pick
Anytime of year that you come and stay with us you can walk our Christmas tree fields located in our acreage which is just a close walk from your dome and choose your tree for the season. This is a seasonal add on that you can purchase at the checkout.
($50+ per tree dependent on size)